Laboratory washer with liquid dispensing hot air drying function
Product Details
Overview
Quick Details
| | | | |
| --- | --- | --- | --- |
| Brand Name: | XPZ | Model Number: | Aurora-F2 |
| Place of Origin: | Hangzhou,China | Overall Power Consumption: | 7KW or 12KW |
| Washing Chamber Volume: | 198L | Material: | Inner Chamber 316L/Shell 304 |
| Water Consumption/Cycle: | 16L | Power Consumption-Water Heating: | 4KW or 9KW |
| Washer Chamber Size(W*D*H)mm: | 660*540*550mm | External Size(H*W*D)mm: | 995*930*765mm |
| Gross Weight(kg): | 185kg |   |   |
Packaging&Delivery
Packaging Details   Wooden Package
Port            Shanghai
Automatic Glassware Washer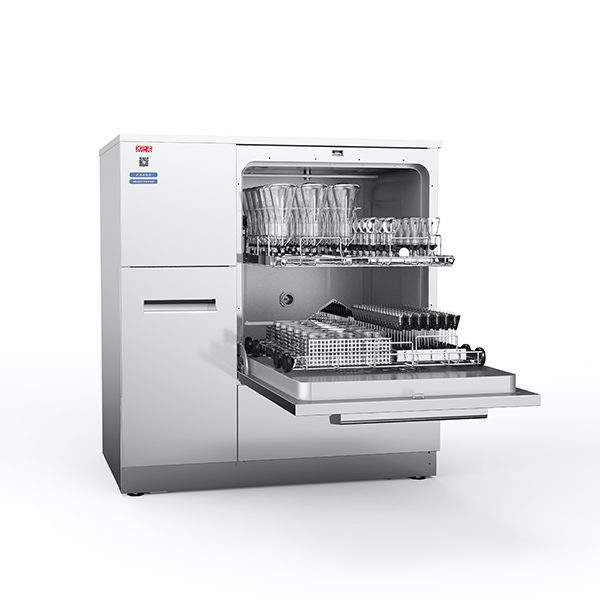 Features:
1. Can be standardized for cleaning to ensure uniform cleaning results and reduce uncertainties in human operation.
2. Easy to verify and save records for easy traceability management.
3. Reduce staff risk and avoid injury or infection during manual cleaning.
4. Cleaning, disinfection, drying and automatic completion, reducing equipment and labor input, saving costs
——-Normal washing procedure
Pre-washing → washing with Alkaline detergent under 80°C → rinse with Acid detergent →rinse with tap water → rinse with pure water→rinse with pure water under 75°C→drying
Technological Innovations: Basket recognition system and automatic adjustment of water volume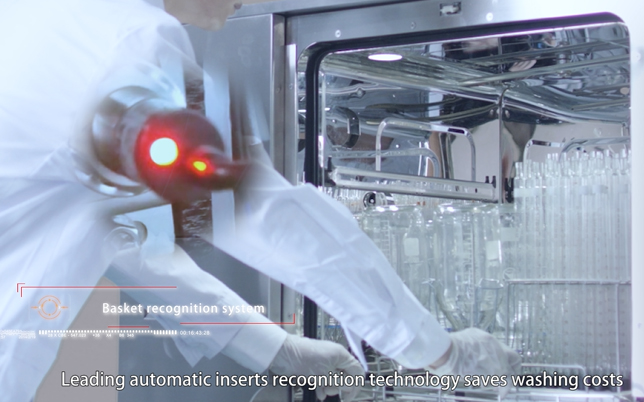 Features of the basket recognition system
●Saving water       ●Saving detergent
●Improve cleaning efficiency    ●Saving cleaning cost
Calculated according to standard cleaning: each time can save 12L of tap water, 36ml alkaline detergent, 18ml acid neutralizer, and save 6min in cleaning time.
Efficient drying
1.In situ drying system
2. Built-in HEPA high efficiency filter to ensure the cleanliness of dry air;
3. Synchronize the drying water circulation pipeline to avoid the pipeline contamination of the cleaning system;
4. Double temperature control to ensure drying temperature;
Operation management
1.Wash Start delay function: The instrument comes with appointment time start & timer start function to improve the customer's work efficiency;
2. OLED module color display, self-illumination, high contrast, no viewing angle limitation
4.3 level password management, which can meet the use of different management rights;
5. Equipment fault self-diagnosis and sound, text prompts;
6. Cleaning data automatic storage function (optional);
7.USB cleaning data export function (optional);
8. Micro printer data printing function (optional)
Automatic glassware washer—principle
Heating the water, adding detergent, and use a circulation pump to drive into the professional basket pipe to wash the inner surface of the vessel. there are also upper and lower spray arms in the instrument cleaning chamber, which can clean the upper and lower surfaces of the vessel.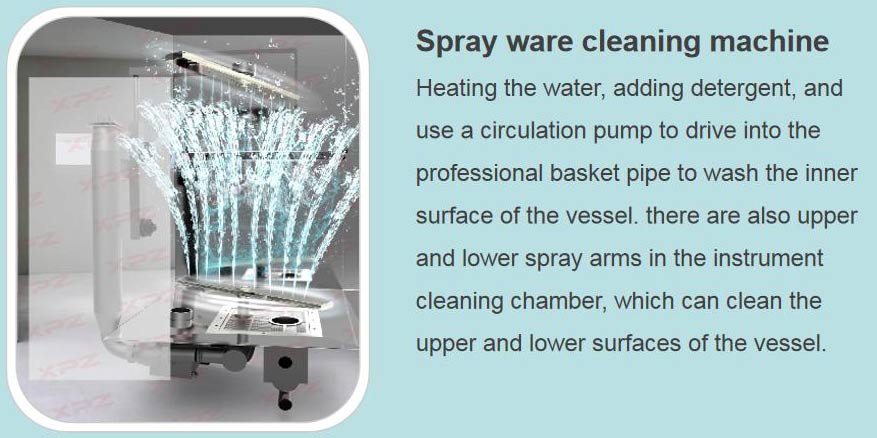 Specification:
Basic Data

Functional Parameter 

Model

Aurora-F2

Model

Aurora-F2

Power Supply

220V/380V

ITL automatic door

Yes

Material

Inner Chamber 316L/Shell 304

ICA Module

Yes

Total Power

7KW/12KW

Peristaltic Pump

2

Heating  Power

4KW/9KW

Condensing Unit

Yes

Drying Power

2KW

Custom Program

Yes

Washing Temp.

50-93

℃

OLED Screen

Ys

Washing Chamber Volume

198L

RS232 Printing Interface

Yes

Cleaning Procedures

35

Conductivity Monitoring

Optional

The Layer Number of Cleaning

2(Petri dish 3 layers)

Internet of Things

Optional

Pump Washing Rate

600L/min

Dimension

(

H*W*D

)

mm

995

×

930

×

765mm

Weight

185kg

Inner cavity size (H*W*D)mm

660*540*550 mm
---
Previous:
Laboratory Dishwasher Laboratory Washer Benchtop washer with automatic opening and closing door technology
---